ODK Collect is a third-party app that is used in digital data collection using a mobile phone or a tablet. It is designed to work offline, and thereafter can be connected to a cellular network / Wi-Fi for data submission after the data collection exercise.
Why use ODK Collect app?
It is open source, therefore its free
Great user-interface
It can work offline
Improved data quality since data is collected digitally
Survey tools compatible with this app are:
KoBo Toolbox
ODK Central
ODK aggregate
Ona
ELMO
About the app:
The app has 6 distinct features. They include:
Fill blank form: This feature enables one to capture a blank survey form to fill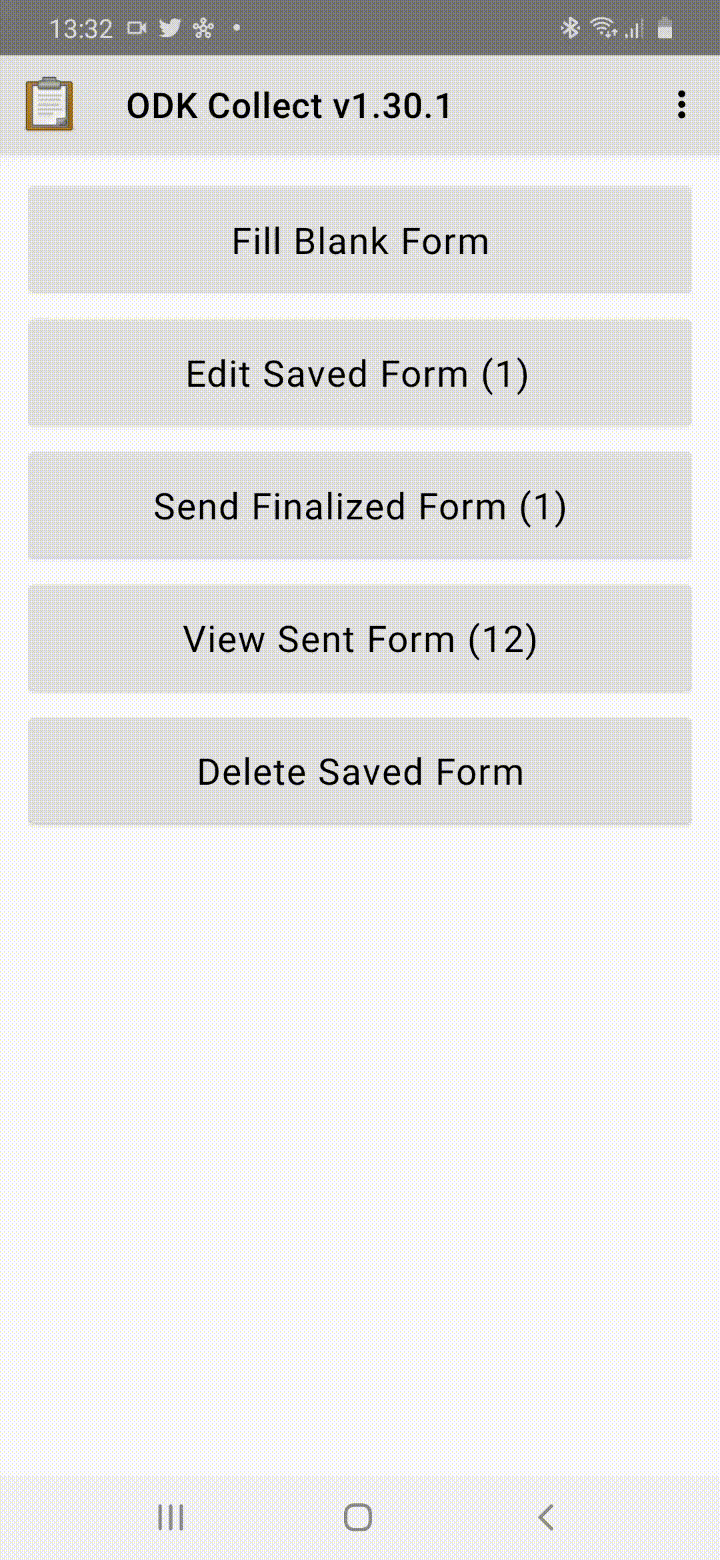 Edit saved form: This feature enables one to edit a saved survey form before it is submitted
To edit a saved form:
First, you need to save the survey form by clicking the save button
A popup window appears prompting you whether you want to save changes or ignore. Select the save changes option
Proceed to click on 'Edit saved form' to check on the survey that you have saved
You may decide to fill in (edit) the survey then send it off
Send finalized form: This feature enables one to send a finalized form after data has been collected.
However, to send a finalized form:
Ensure that you have completed the survey form
Click on the button
Click on your device's back button to return to  , then click on it
Select the form you would like to send, then click on button to send the form
Note: This process can be automated (more on this will be discussed later under 'How to use ODK Collect ')
View sent form: This enables one to view the submitted survey form
To view a sent form
Simply go to the 'View sent form' feature,
Select the form you want to view and the form appears.
Delete saved form: This feature enables one to delete a saved survey form
To use this function:
Simply select the 'Delete saved form' feature', then select the form that you would like to delete
Click on the 'Delete selected' button
A popup window appears prompting you not to delete the form, or delete the form. Choose your preferred choice.
3 dots

  at the top-right hand corner: This grants you access to options such as:
About: Here, you are granted access to the ODK website, joining the ODK forum, sharing ODK Collect with colleagues, leaving a review on google play store, as well as access to open-source libraries and licenses
General Settings: Here, you have access to the server in which you want to link to for data collection, user interface, maps sources for your basemap (like google, mapbox etc.), form management (for form updates, submission and filling settings) and user and device identity.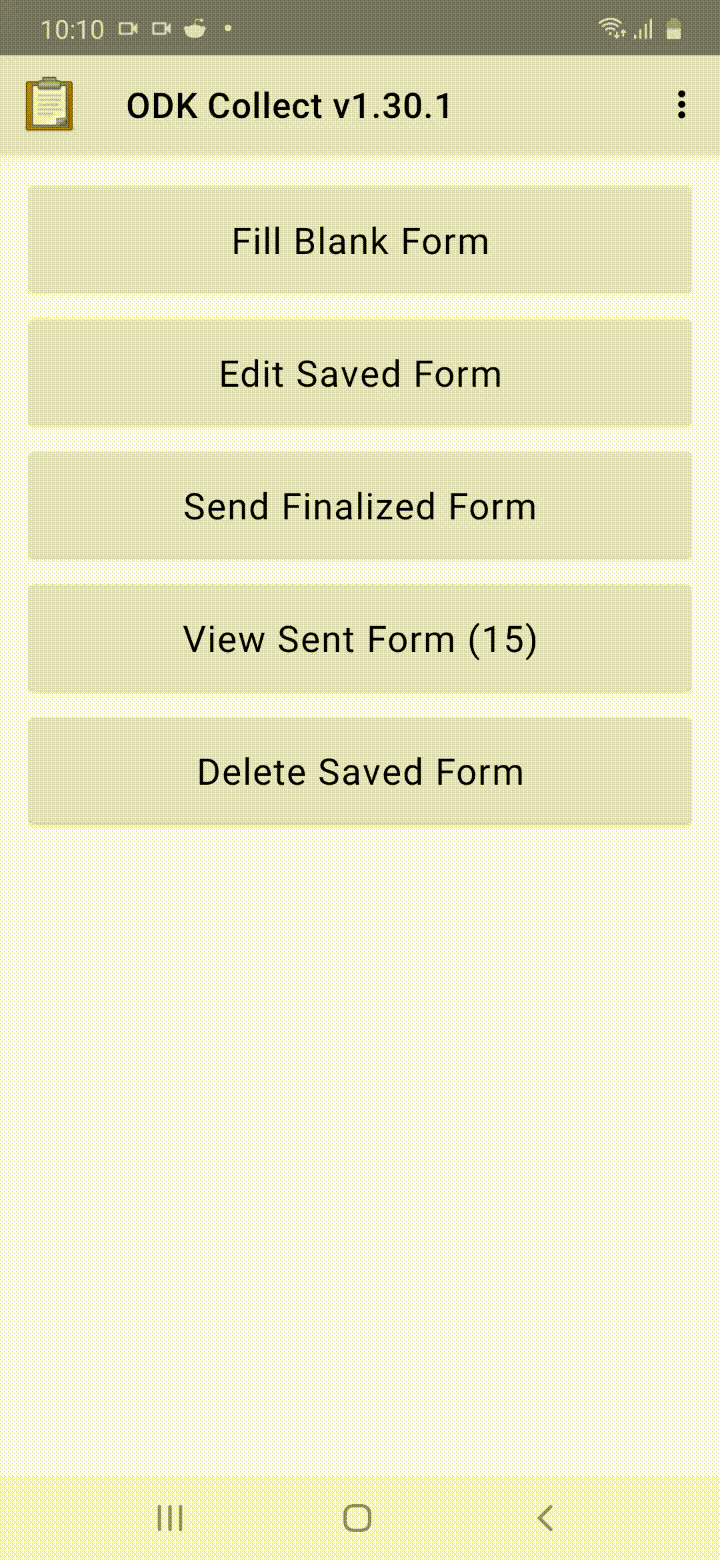 Admin settings: Here you have access to general settings, admin password, app configuration settings (resetting app, configuring QR code etc.), and user access control (main menu settings, user settings and form entry settings)
Configure via QR code: Used to scan QR codes for enumerators to have access to the survey for data collection. It is very helpful in survey tools like ODK Central.
How to use the ODK Collect app
Download the ODK Collect app from Google play store, and install the app
Click on the 3 dots   at the top-right hand corner.
Thereafter, click on 'General Settings' function
In general settings, select 'Server'
Under the server settings, for example, to access the Kobo toolbox humanitarian response sever, change the URL to https://kc.humanitarianresponse.info/, proceed to add your username and password (These are Kobo toolbox log in credentials).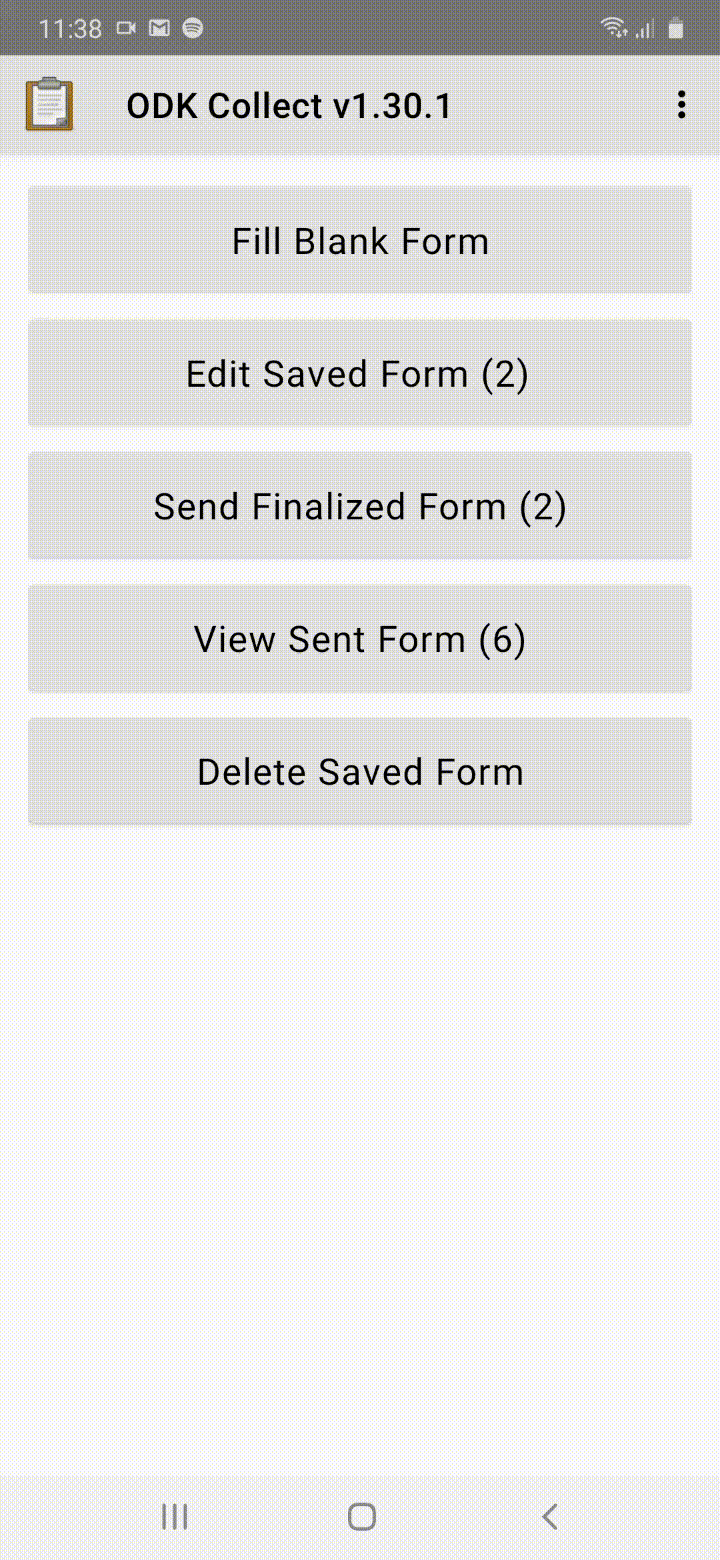 Proceed to click on the back button on your phone to go back to 'General settings', then click on 'Form management' to set your desired preferences e.g., changing auto send option to 'wifi only' or ticking the checkbox, 'delete after send'
On the main ODK Collect window, click on 'Fill Blank Form', then click once more on the refresh button to get the form updates from the ODK servers. Thereafter, proceed to select your desired form by clicking on it.
Your form then opens. Proceed to fill in your survey, then click on 'next' to proceed to the next question.
After finishing the survey, click on 'Save form and exit'. The form will automatically be sent to Kobo toolbox if the auto send option on 'Form Management' feature was set (See point number 6 above for clarity).